Michael Landon Jr.: Under New Direction
Racing down a canyon road, Michael Landon Jr. sped around a turn, lost control of his car and hit a cement light post. The impact of the light post flipped his car down the sidewalk, and he landed on top of a brand new Ferrari. The Ferrari kept him from going over a cement wash to his death. The windows and tires were blown out, and the entire front of the car was crushed to the windshield. Landon didn't bother with a seatbelt; yet, he walked away with just a bruise.


Michael Landon Jr. smiles for the cameras



Driving recklessly was only one way his rebellious teen years were played out. Lapsing grades, along with dabbling in drugs and alcohol, Landon admits his rebellious tailspin reached "the gamut." This was a far cry from his idyllic childhood years, when up until the age of fifteen, the Michael Landon family seemed almost "Little House on the Prairie"-ish.

In an engaging interview, Landon Jr. spoke eloquently about his father, the famous actor, and how he provided a normal upbringing, "considering my father was in the limelight," he said. Family dinners and weekends together were normal. His father didn't like to party and was a "family-oriented" man. Even his closest friends were not connected with Hollywood. Landon Jr. adored his father, who was openly affectionate and a great storyteller, he mused. Describing his dad as a "prankster," Landon said his dad "loved to tell jokes and make people laugh." In essence, Landon said "I had an amazing life growing up."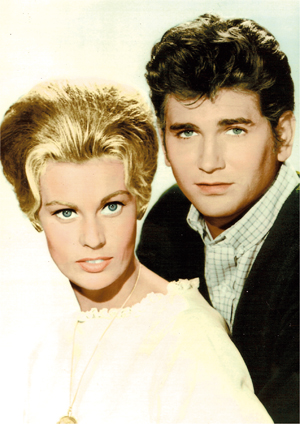 Actor Michael Landon Sr. with former wife, Marjorie Lynn Noe



Landon's world came crashing in around him at age fifteen when his father had an affair, then left his mother. He described that time as "very painful, an excruciating experience." His parents never fought in front of the children, so Landon was "blind-sided by the breakup." In dealing with their own crisis, they were not functioning in a parental role. "Between the pain and the anger, I rebelled big time," Landon claimed. So began the downward spiral effecting his grades, attitude and partying lifestyle.

Married now for twenty years to Sharee Gregory and with teenagers of his own, Landon has a different perspective on his teen years. Landon remembers the pain of his teenage years and the effect his parents' breakup had on him. "I understand clearly now, there is a reason God associates pain with certain decisions in one's life. So, for me, with my wife and children, it is always there for me to remember … not to put my family through it."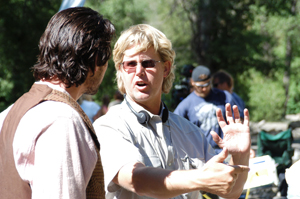 Michael Landon Jr., directing on the set



When he was eighteen years old, Landon's parents kicked him out of the house and cut him off financially. "That was very painful," he explained. "But just the right thing to do. Tough love is something you have to be willing to do with your children. I am always grateful to my parents for that." From a Beverly Hills mansion to sharing a tiny house in a bad part of town, "it was one of those overnight shocks." Landon bussed tables at the same fancy Italian restaurant he used to dine at with his parents or take dates. Quite the storyteller himself, Landon laughed when he said the owner of the restaurant used to have him called over, just to send him away. Then, Landon would hear the owner say "that's Michael Landon's kid, I have him working for me."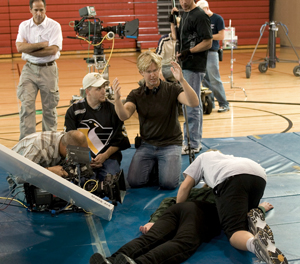 Michael directing a scene on the set of Saving Sarah Cain



There have been no shortcuts to fame. The Landon name never catapulted this son to stardom. At the age of thirteen he was given a Super Eight camera, and felt destined to a career in directing. Yet, he began as a busboy. After working in the restaurant for a year, the senior Landon invited him to the set of his TV series, Highway to Heaven. For eight long years, Landon Jr. toiled as a film loader, working his way up to Assistant Cameraman. "Your main job is to load film and lug cases," Landon explained. "It was humbling…" During that time he went to the American Film Institute where he was a Directing Fellow.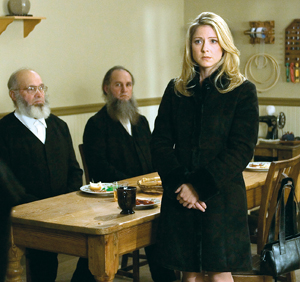 A scene from Saving Sarah Cain, one of Landonís latest releases



Landon's mother, Marjorie Lynn Noe, sought solace from her manicurist during the tumultuous time of her divorce. Whereas she used to feign sleep during her manicures, now she needed advice. A devout Christian, the manicurist invited Mrs. Noe to church, where she surrendered to the love of Christ. Excited about her newfound faith, Mrs. Noe kept asking her son to church. Although Landon had a moral upbringing in his early years, he wanted nothing to do with church, and kept resisting her plea. Eventually, Landon gave in and went to church. "I can't remember what the pastor said that day, but I remember he spoke to my heart, and I knew I was hearing the Truth."

"I had to be broken," Landon stated. At the age of twenty, after five years of rebellious living, he had hit bottom. Five months after going to church "I gave my life to the Lord," he said. Looking back now, Landon could see God's hand of protection in his life all along. The owner of the Ferrari said he never parked where he did the day Landon crashed. It saved his life. Landon spoke about how one of his "closest, dearest" friends growing up died of an overdose, and God's protection that he didn't end up with the same fate. Up until the day he walked down the aisle at church, "it was an ugly world for me," he claimed.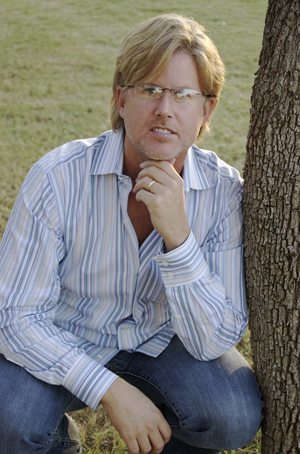 Michael Landon Jr., with hopes of making more touching films about life, family, and love



Taking after his dad, Landon has purposed to create family-oriented entertainment. Not all of his work is overtly Christian, but he stated he would never go "against his world view." His Love Comes Softly series of films for Hallmark were extremely successful, but it took ten years and lots of rejection from Hollywood before the first production was made. Landon said there were days he was ready to give up and be a chicken farmer, or take his films to Romania where you could get "more bang for your buck." Knowing he was called and equipped for the task of directing, Landon spoke about the perseverance it took to keep going. He was "not giving up no matter what." There were times he took odd jobs to put food on the table for his family. Landon said it was those days that he would commit his career to Christ, and say "You have to guide me here."

Now, with his own production company, Believe Pictures, Landon and his partner Brian Bird made The Last Sin-Eater last year, and have a plethora of films in the coffer. Everything from The Velveteen Rabbit to films bringing the Amish community to life, this once-struggling director is fulfilling his calling and bringing wholesome entertainment into our homes. Look for their current production, Jake's Run, the true story of a boy who has Fragile X syndrome, and how "he brings new life and hope to this community." Landon's talent extends beyond films, as he just published his inaugural novel called One More Sunrise, and is working on his second novel entitled The Silent Gift.

Michael Landon Jr. has forged his own path in the entertainment industry. A self-described introvert at heart, the Hollywood lifestyle has no appeal to this family man. Although a successful director, he wants to be known as someone who "loved my Christ, my God, and my wife and children, the best I possibly could."