Tammy Trent Amist the Storm
One idyllic day on the paradise island of Jamaica, Trent Lenderink dove into the Blue Lagoon and took his last earthly breath. Tammy Trent, his wife of eleven years, could only watch helplessly as her beloved disappeared into the Caribbean waters.
This happened on September 10, 2001.
An experienced free diver, Lenderink could dive without air and hold his breath for up to five minutes. So after that infamous dive, when endless minutes ticked away without surfacing, Mrs. Trent gave way to panic and then dread. Trent called her family, who all made plans to fly down the next day, except her father-in-law, who left that night. Her father-in-law helped with details of the search and rescue. They found Lenderink the next day with a gash in his head … home with Jesus.
The next morning, on September 11, 2001, Tammy Trent watched the whole world fall apart. No other family was able to fly to her aid. For eleven days, she was stranded in Jamaica, dealing with the tragic and sudden loss of her husband. An accomplished singer/songwriter, Trent found herself in a lonely hotel room, crying out to the Lord and expressing her sorrow in song. She wrote the song "Stop the World" during that time, and it was played at her husband's funeral.

So began a new life for Trent, without her life partner. In a revealing interview, she spoke about the recovery, and her life today, almost seven years later. "I didn't have a plan," she said about her time right after the accident. A Christ-follower since childhood, she has trusted in the Lord almost all her life. Now she admitted to being "scared," and not having any idea "how I would breathe my next breath."
A celebrated Christian artist, Trent already had recorded CD's with several number one hit singles, including 'My Irreplaceable.' Her career was thriving, with her husband at the helm since the beginning. Now what? "Just get up," said Trent. "I know I'll survive. I know I will overcome." Trent took a year off to seek the Lord for her life, not knowing if she would sing or write songs again.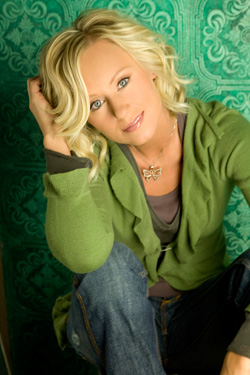 When that year respite was up, Women of Faith (WOF) called to invite Trent to be a conference speaker/singer. That was the very thing her husband had prayed for, that she would travel with WOF. "So how could I deny God?" she said. Trent became a voice for those overcome by their own circumstances. Hundreds of heart-wrenching e-mails have piled in over the years. One e-mail explained how the sender knew Trent from a recent WOF conference. Her brother had just committed suicide, and she wanted Trent to pray for her "because she knows I understand so well." In an earlier e-mail, a woman is grieving over the death of her 8-year old daughter. After coming to a WOF conference, this woman had bought Trent's CD package Set You Free, and her daughter became a fan. When this young girl was killed, Trent's song 'My Irreplaceable' was played at her funeral. Although she admits to "falling apart on the other side of the computer," Trent said "I also love that God would trust me enough to show up and speak hope into the lives of people …"
It's a choice. Although her faith is strong, this young widow admits "it's an accomplishment for me to choose to live. To choose to breathe. To choose to press on." She is called to speak, sing and encourage others with her own testimony of God's grace amidst the storm in her life. Trent said there are days she is excited to share her testimony and "I want them to see what God has done in my life." Other days it's simply harder. "There are other moments when I shut the door and say "I don't want to talk or put a smile on my face." It's those days she relies on God's grace. "I know in those moments I can lean on God to carry me through ..."
When Trent first began in the music industry, she didn't believe she had much of a testimony because "I never shot anybody. I wasn't in prison. I didn't do drugs." Then someone told her she had one of the strongest testimonies because she's always stood by God. "It opened my eyes to a new perspective," she mused. In talking about the very real way she does life, she admitted to dealing with anger. "I've dealt with not understanding why God would do certain things. Frustrated and yelling at Him. I have a real relationship with Jesus that is ongoing every day. I've never wanted to turn from God, because I know that ultimately He is the one who is going to heal me."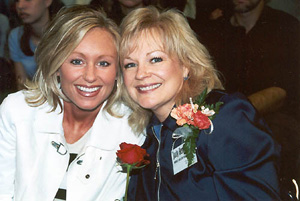 The ministry birthed out of her own grief has expanded to many genres. She expressed her healing process in heartbreaking detail in her books Learning to Breathe Again and Beyond the Sorrow. Trent hasn't needed a booking agent "because the phone keeps ringing every week." If the request makes sense, she'll go ahead; whether it be working on a compilation worship CD or booking a concert. She told the Lord if He would take care of her, "I'll be faithful." Having ministered to 20,000 and just 200, she said "my favorite venue is when people show up because they want to hear from God."
Beautiful. Talented. Fun. Will Tammy Trent marry again? "I've had the love of my life," she said. "I feel broken in the area of missing Trent. I miss the cuddle. I miss holding hands. But I don't just want that in my life to want it again. It would have to be God in my life. It would have to be a miracle." Trent went on to say "in this place in my life I feel really complete and comfortable in that."
A self-described "outgoing" person who is quick to smile, her candor is refreshing and her laugh contagious. Yet Trent goes so much deeper than that. She looks for God in every situation and takes God at His Word. "My faith and my relationship with Jesus is solid in my life through the good and bad," she said. Indeed. It's important to Trent that she be known as a woman of character and integrity. She would much rather hear "I totally see Jesus in you when you speak" than "you sing pretty," though she is all of the above.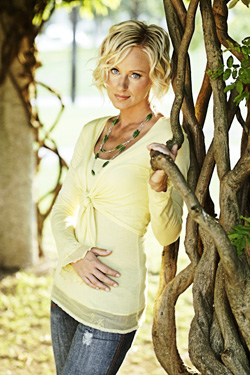 Sweet surrender and grief intertwined with grace are all evidenced in Trent's new CD coming out July 29th entitled Stronger. Having co-wrote half the songs, Trent's life is poured out through the lyrics. She wrote the song 'Beautiful' for her friend Wynona Judd, who "is searching for God in the midst of traveling a really tough road …" The lyrics reach out to her friend, saying "you are stronger than you realize. I can see it in the way you move. Stop listening to those lies. It's time they see the real you …" Her favorite song on the CD is 'Shine' because of the message it brings. "Shine in the light of Jesus. We're strong in the face of the storm. We'll overcome like a beautiful flower through the rain, past the pain. It's time to Shine." Trent said the title of this CD sums up her life right now. "I am in a stronger place," she explained.
Tammy Trent spoke eloquently about her life and faith, and the reflective time right after Trent Lenderink's death. "Standing at the edge of the water for me, I didn't need religion. What I needed was to know that God was real, and His presence was real, and I can bank on that. That has been the very thing to bring me back to life, is my faith and my relationship with Jesus."
(For more information on Tammy Trent and her music, go to www.tammytrent.com.)